Filters
Save $30.00
Sale price

$69.97
Regular price

$99.97
4.8
Save $60.00
Sale price

$199.94
Regular price

$259.94
Sale price

$219.94
Regular price

$299.94
Save $20.00
Sale price

$49.97
Regular price

$69.97
Save $10.00
Sale price

$79.97
Regular price

$89.97
Save $10.00
Sale price

$59.97
Regular price

$69.97
Sold out
Save $49.98
Save $49.98
Sale price

$139.97
Regular price

$199.97
4.8
Save $59.97
Sale price

$169.97
Regular price

$229.94
Save $60.00
Sale price

$199.94
Regular price

$259.94
Save $80.00
Sale price

$219.94
Regular price

$299.94
Save $25.00
Sale price

$164.97
Regular price

$189.97
Save $99.97
Sale price

$169.97
Regular price

$269.94
Save $73.00
Sale price

$116.99
Regular price

$189.99
Save $10.00
Sale price

$139.94
Regular price

$149.94
Save $89.99
Sale price

$179.95
Regular price

$269.94
Save $90.00
Sale price

$139.94
Regular price

$229.94
Save $10.00
Sale price

$179.99
Regular price

$189.99
Save $19.97
Sale price

$149.99
Regular price

$169.96
Save $30.00
Sale price

$69.97
Regular price

$99.97
Tire Inflators
Power Up Your Pump Game with Fanttik – Find Your Perfect Inflate Mate!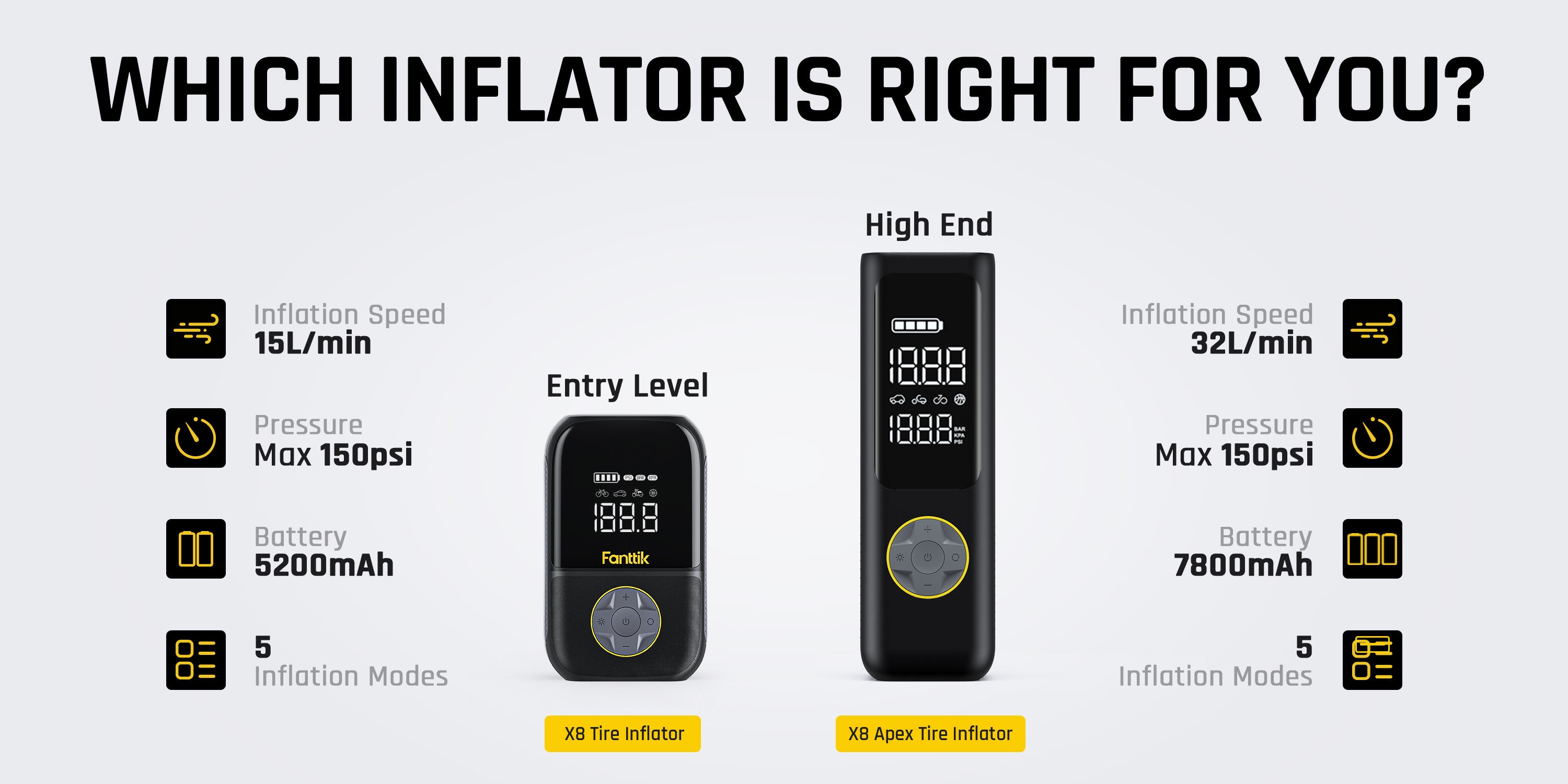 FAQ
About Fanttik Portable Tire Inflators
Q: Are all Fanttik inflators suitable for all vehicle types?

A: Each model has specifications for different vehicles and items. For example, some are more suitable for bikes, motorcycles, or cars, while others can be used across various types including new-energy cars like Teslas.
Q: Can I use Fanttik tire inflators for inflating sports equipment?

A: Yes, specific models like the X8 Nano Electric Ball Pump are designed for sports balls, while others have presets for balls and other inflatables.
Q: Can the Fanttik inflators stop inflation automatically at the set pressure?

A: Yes, they come with an auto-stop function that stops inflation once the set pressure is reached.
Q: How do I switch between different units of pressure on the inflators?

A: The inflators offer preset units (PSI, KPA, BAR) that you can select with a simple click or button press on the device.
Q: How do I charge the Fanttik portable tire inflators?

A: The inflators can be charged with a USB-C port. The time for a full charge varies by model, but typically ranges from 25 minutes to a few hours.